Ruffwear Front Range Day Pack, dog backpack
Regular price

Sale price

$139.00

Description

Innovative dog backpack for day trips

You need storage space for your day trips? Then Ruffwear has an innovation for you: The popular Front Range Harness has been further developed and now offers under the name Front Range Day Pack also a practical dog backpack with many extras (the harness is of course still available.) Here, everything has been thought of: the radially cut saddle pockets provide a stable stored content, so that the dog no problems arise from slipping. The weight is on the front body area. Inside, stretch mesh pockets help you store your utensils wisely. The harness is padded with foam, so your four-legged friend can be comfortable with it for a whole day. It can be adjusted at five points to the exact dimensions of your favorite and has extremely secure closures.

Available in three colors and even more extras

The padded back handle of the Ruffwear Dog Backpack lets you lift your best friend over obstacles or help him get over them. Plus, the Front Range Day Pack features a V-ring on the back and another sturdy loop on the back and chest area. All three are designed to hook the leash. Especially dogs that pull hard are best passed over the chest ring so that the pull is deflected to the side. Reflectors provide good visibility at dusk. In addition, for even more safety, the LED light The Beacon can be attached to a loop provided for this purpose on the neck (can be ordered separately from us). The stylish Ruffwear dog backpack is available in the colors Red Clay, Blue Moon and Aurora Teal and in four sizes (XS, S, M, L/XL). For this, compare your dog's chest circumference with the size chart. If necessary, the Front Range Day Pack can be hand washed with a mild detergent and air dried. After that, it's ready to go again for your next outing!
Key Features
Care
Shipping & Return

✓ We ship to 33 countries

✓ Climate neutral shipping (DHL / Post.at / GLS)

✓ Easy return (EU)

✓ 60-day right to cancellation (EU)
Share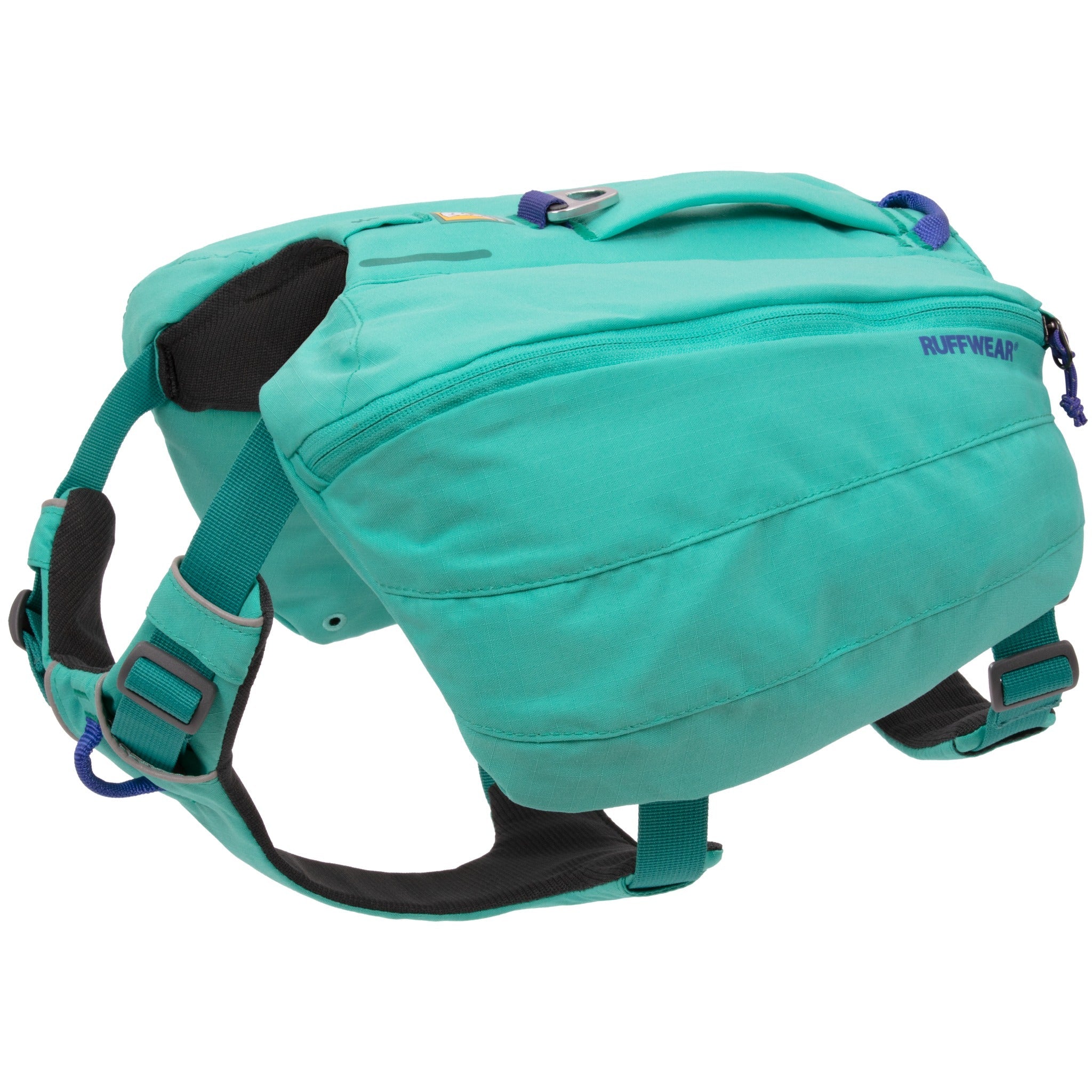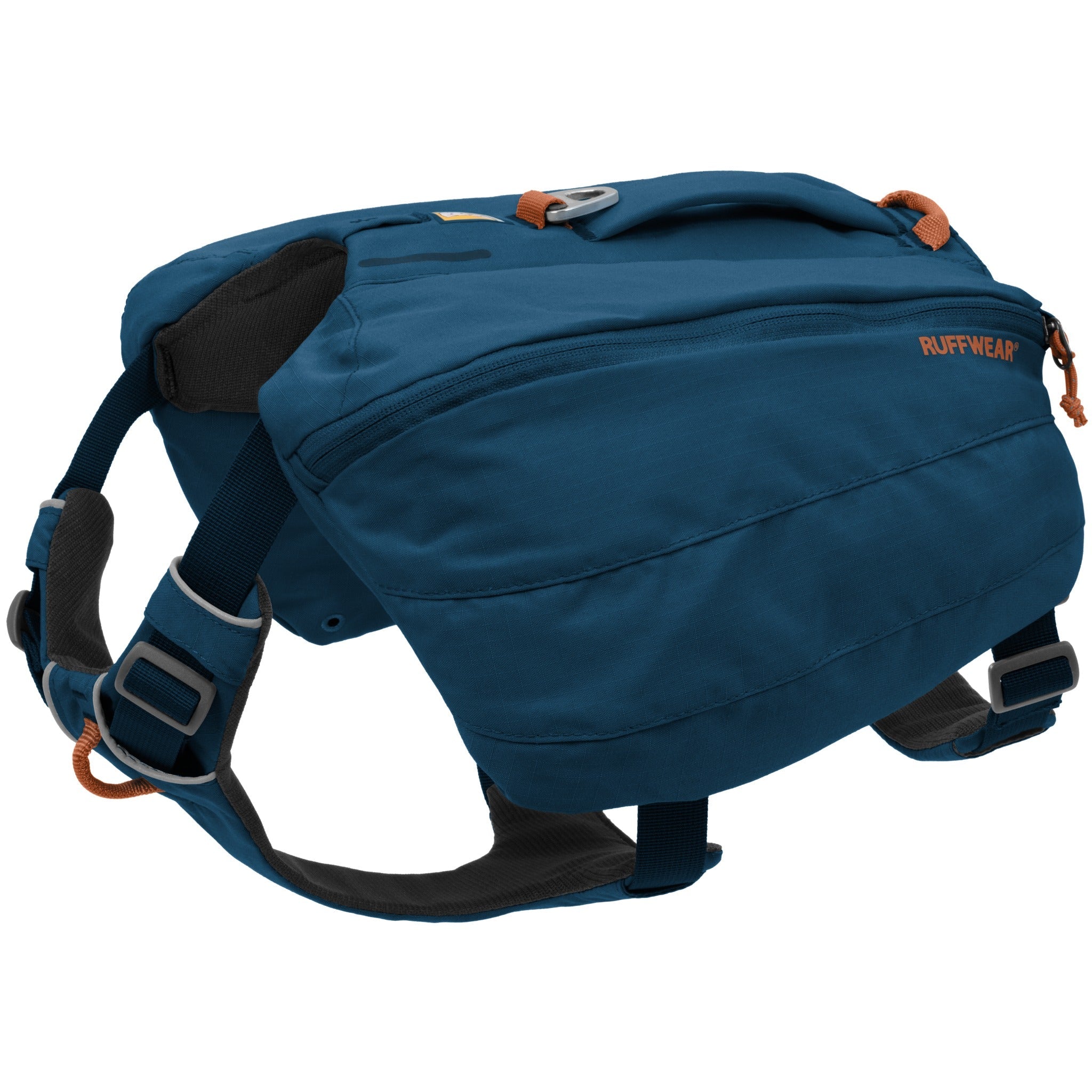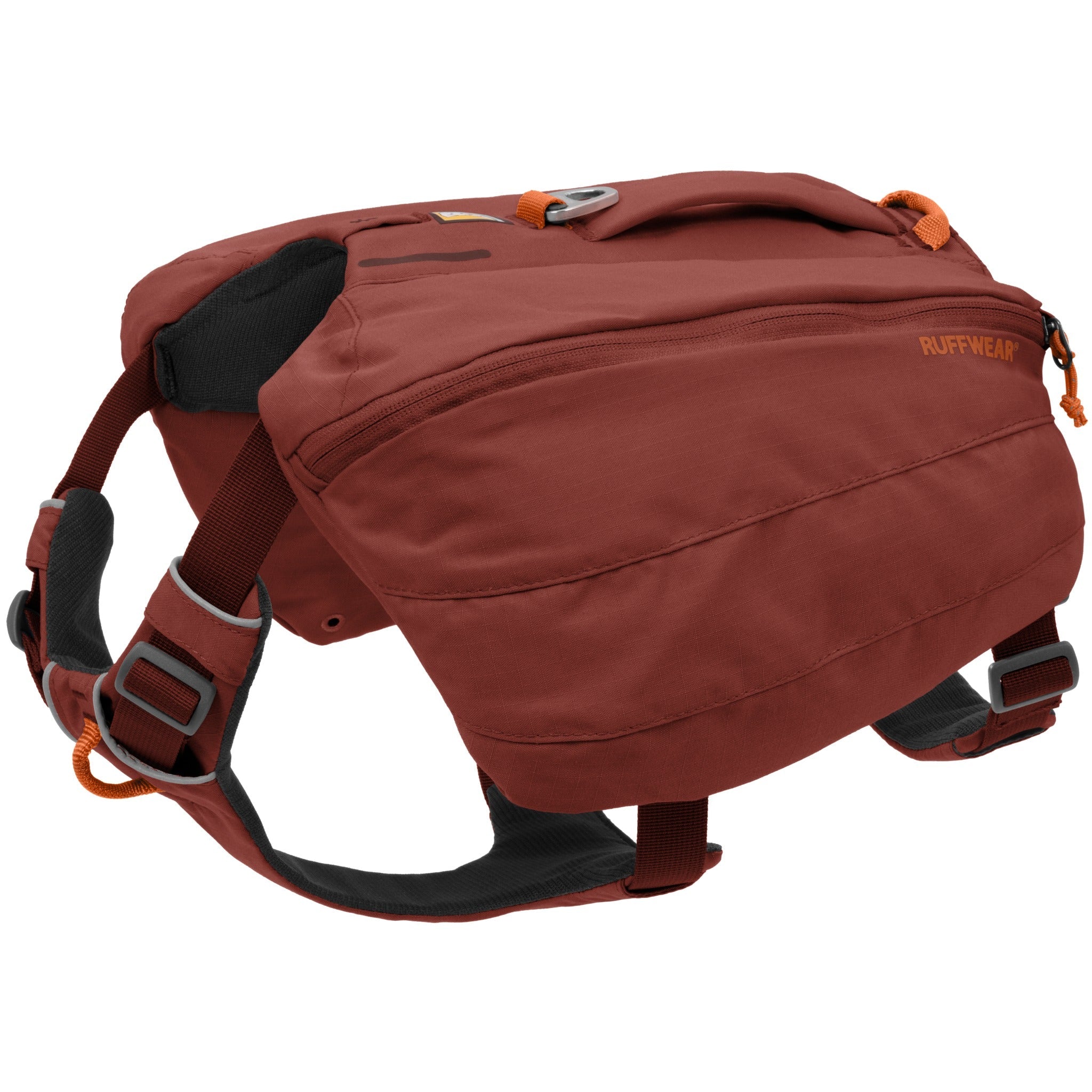 Size Chart Ruffwear Dog Backpacks
| Size | Chest |
| --- | --- |
| XS | 43-56 cm |
| S | 56-69 cm |
| M | 69-81 cm |
| L/XL | 81-107 cm |
Here you will find the size chart to help you choose the right backpack. Please measure the widest part of the chest. If you are unsure because the measurement is between two sizes, it is best to choose the larger size. The chest strap can be tightened more than indicated in the chart.
HOW TO ADJUST THE STRAPS CORRECTLY:
Are you ready for a little challenge? We know that sometimes it can be difficult to get the dog backpack right the first time. But don't worry, we're here to help! Below you'll see how to get the largest possible circumference for each size. Many people easily overlook this :)
Let's go: Pull the strap ends out of the layers of fabric at the waist, making sure there are no double layers. Use the small sliding buckles and buckles on each side and push them up until everything fits perfectly. In the end you should have no more "flapping" ends. You can do it!
Samoyede
Wir sind mit dem Rucksack und dem Service mega zufrieden.
Magyar Vizsla
Ich habe lange nach einem Rucksack für unseren schmalen Vizslarüden gesucht. Nachdem uns der Singletrak von ruffwear leider selbst mit Brustgurt nicht überzeugen konnte, da er immer wieder verrutschte, kamen mit dem Frontrange zwei Neuheiten zum richtigen Zeitpunkt! Das Switchbak Geschirr mit zwei kleinen praktischen Seitentaschen und der Daypack Rucksack! Das Anziehen klappt problemlos und sie sitzen einfach wie angegossen! Da unser Hund jedoch sehr schmalbrüstig ist und der Brussteg für ihn verhältnismäßig breit ausfällt und uns bislang die Erfahrung auf längerer Strecken fehlt, haben wir uns zunächst für den kleineren Switchbak entschieden und hoffen, dass es keine Scheuerstellen gibt, denn dann wird auch der größere Daypak für längere Touren bestellt! !!!
Die Beratung ist wie immer klasse und hilfreich- vielen Dank an das Team!
³Information on the authenticity of customer reviews

Each consumer review is checked for authenticity prior to publication to ensure that reviews only come from consumers who have actually purchased/used the reviewed products. The verification is carried out either by manual verification in the form of a comparison of the rating with the order history of the merchandise management system in order to make a previous product purchase a necessary condition for publication or by sending individualized links to consumers after completion of an online order that lead to an online rating form and ensure that access to the rating function is only granted to consumers who have actually purchased a product.